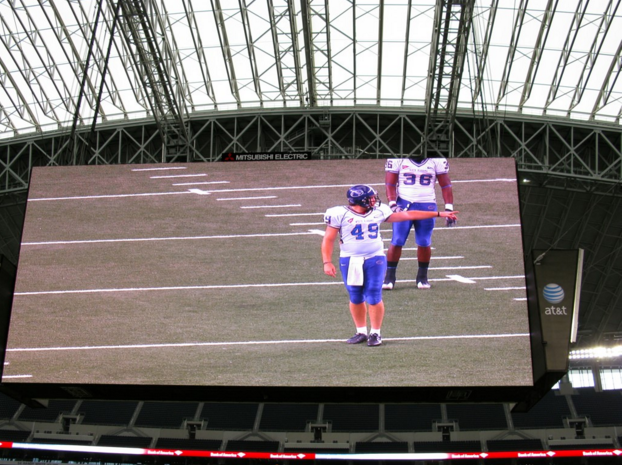 People everywhere are realizing the amazing benefits of utilizing the "Jumbotron" for video production. These video screens are being used more and more by event hosting companies and production companies that need to put on a great show. They are being made even more famous by people like Jerry Jones, owner of the Dallas Cowboys, whose giant Jumbotron at Cowboys Stadium in Texas is one of the biggest video screens in the world.
These giant video production screens serve many purposes. They are used at churches, at concert venues, and at shows all across the country and for many different reasons.
Benefits of a Jumbotron
Enable Everyone to See
Those in the nose-bleed section at a production would not be able to see if it weren't for the Jumbotron. The investment in these video screens enables all concert goers to have an up-close experience when watching the screen and hearing the sounds. At concerts, everyone is able to see up close as the camera pans across each musician, from the fingering of the guitarist to the rhythm of the drummer's beat. Even churches are utilizing large video screens to enhance their audio/visual experience on Sunday mornings.
Instant Replay
Sporting events are realizing that a Jumbotron enables everyone to have a great experience with watching the screen, and it also enables everyone to witness the replays first hand. This is just one more benefits of the Jumbotron. They make attending a sporting event that much more fun, and events in California are made better by these wonderful screens.
Projectors vs. Jumbotrons
For years, projectors were the favorite of party planners and event officials who needed a way to put something up on a video screen. While projectors have their uses and are good for certain things, one benefit of the Jumbotron over the projector is that they do not need an unobstructed field of sight to be able to display the image on the screen.
For professional production services in Northern California, look no further than Tolar AVL. They are the premiere production and audio/video service in Redding, Chico, San Francisco and Sacramento. Give them a call today at 530-342-8860!