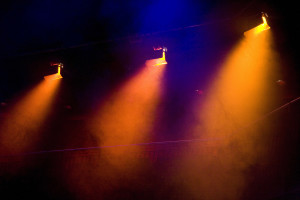 Stage and theater lighting is absolutely essential to the overall aspect of productions, community events, and/or corporate parties. Theater lighting is essential to a production. Without lighting, a production can be flat, monotonous, and lose its entire purpose. It strings an entire piece together because it gives the audience the ability to actually see what is right before their eyes!
Theater Lighting Tips
Understand Your Event
It can be particularly difficult to understand when there is a beginning or an end of a scene without stage lighting, when characters, actors, or participants are supposed to make an entrance, and who is even present because people are not even properly visible without lighting — let alone the right type of lighting! Lighting is more than just lights hitting a person's face; theater lighting is an art because it can be on, fall on, follow, and focus on a person's face to enhance and thus highlight their facial features. You just can't have a theatrical stage without proper lighting!
Have Color Set the Tone
Theater is an art, so in a theater and lighting production, use the color of light to set the mood and tone of what is happening on stage. This is where you can get a bit creative and begin to use filters. If a dramatic and sad scene is occurring, try setting the colors to a dim and cool tone or throwing a blue tint on. On the other hand, brighter colors like reds, oranges, and yellow can promote a more positive feel, although red can also be more angry and passionate depending on what scenery and music accompanies it. As humans, we tend to put specific colors with certain moods and feelings. Humans even have a tendency to predict what may happen when they see specific colors beforehand.
Mixed Patterns and Movement
You can use light to have patterns and movement throughout the stage when needed or if the scene or event calls for it. A perfect example would if you were having the stage play, "Peter Pan," and needed to move the character of Tinkerbell around and decided to move a beam of light around the stage to act as a fairy. Other stage productions will use light in creative ways by having it come up on the stage as a pattern with sound effect to appear like a storm, tornado, trees, or starry night sky.
There's certainly a world to educate yourself on when it comes to lighting, but these are some brief basic theater lighting tips that can point you in the right direction for an excellent video and stage production.
Are you having an upcoming special event and in need of a professional team to capture your event on film? Look no further and contact Tolar AVL today!